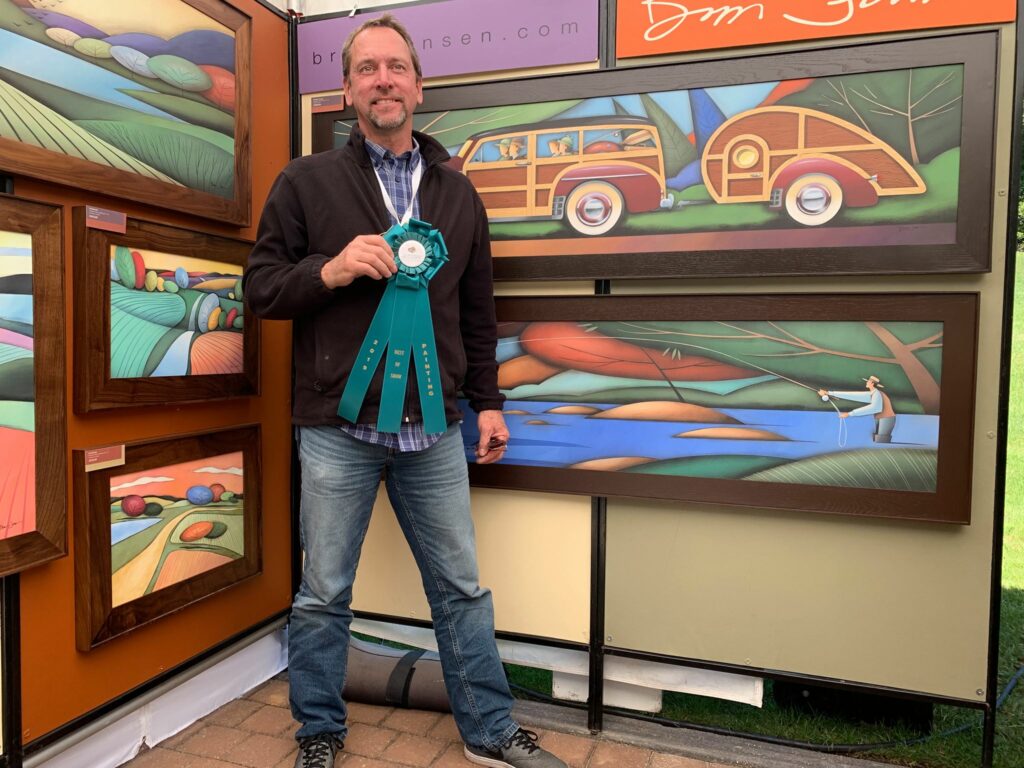 Cottonwood Art Festival has selected Brian Jensen as the 2019 Fall Featured Artist. Jensen first showed his original acrylic paintings on wood panels at the festival in the fall of 2018 and is pleased to return for a second time in October. 
In a childhood spent on and around the lakes of the Upper Midwest, Jensen enjoyed spotting vintage boats on the water. Antique cars and motorcycles also caught his eye. His father was a graphic designer and his artistic interests were passed on to the younger Jensen. He learned to paint at an early age, but it took some time before he would make a commercial connection between those seemingly unrelated interests of painting and things that go.
"It's an honor to be chosen as the featured artist and to get to do the poster. It's very joyful for me to get the great response I get from people when I visit," Jensen said. "Going to Texas in the fall is a treat for me because I'm from Minnesota. It's nice to go someplace that's warm early in the season."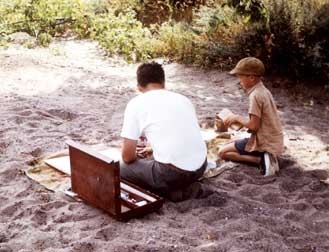 "I was that kid at school drawing cars on the back of my notebook. That was always discouraged," he said with a laugh.
Jensen followed his passion for art through school and graduated from the Minneapolis College of Art and Design, after which he worked as an illustrator for Time magazine, The Wall Street Journal and other corporate clients. He even illustrated a series of children's books. It was during this time he built his technical skills as an artist but set aside his personal passions.
"Being an illustrator was very deadline driven and I was always doing someone else idea. That can be very wearing," Jensen recalls. "Sometimes I felt successful and sometimes not."
He knew he had to find the fun again.
"When I started doing my own work, I got the best response from myself and from others," Jensen said. "It felt really authentic and good to get positive responses from other people."
This was the beginning of a shift. There were a few years of overlap — he continued to illustrate for corporate clients while spending more energy painting his personal interests. Then a life-changing event forced Jensen into some serious introspection.
His wife got breast cancer and passed away.
"I had to take time out and figure out what was important to me," he said. "That was a bittersweet moment, being successful but also losing my wife. It was really pivotal in pushing me forward."
Jensen's distinct vintage, almost art deco, style makes his work highly recognizable. Reality and imagination meet at the end of his brush. The places and subjects he paints are real places and things, but expressed through the filter of his mind's eye.
"I take photographs for inspiration," he said. "If it's an automobile I'll look at the photo, so I get the details correct. For a landscape, I'll look at the photo then I'll put it away and I'll paint from my memory. It may not always be visually accurate, but it is the vision I see in my mind and many times other people recall the same image that I've painted. Even with the cars, I tend to exaggerate the details to make it look more iconic. I try not to copy a photograph or be too committed to it if possible."
Shape also sets Jensen's work apart. Much of his collection is disproportionately wide, allowing him to make the most of the subject.
"I sort of stumbled across that format one time. I was working on a speed boat and I wanted it to look really dramatic," Jensen said. "I thought I'd use an old advertising technique to exaggerate the product and make it the hero. Speed boats are long and shallow already, so I made the people really small and the boat really big and long."
That stumble has become his signature.
"People responded well to it because it's a dramatic look and also it fills a space," he said. "A lot of people and offices have a wide empty space like that, so it fills the niche."
Jensen has come full circle and now he earns high praise, instead of reprimands, for drawing cars. He encourages young artists to embrace their personal work as they continue to develop.
"From my commercial experience I gained work ethic and technical skills. I would work really hard on the technical skills. That's what I did for years," he said. "It was hard in the beginning. Now I feel like I've got that mastered, I can add the fun part."
Preview Jensen's art on his website and take home his work on a souvenir Cottonwood Art Festival poster or t-shirt. Cottonwood Art Festival is a semi-annual juried show featuring more than two hundred artists and is recognized as one of the best art festivals in the country. The fall festival will be on Oct. 5-6, 2019 at Cottonwood Park in Richardson, Texas. Event parking and admission are free. See work from all of the artists at this season's show on our Pinterest board and follow us on Facebook, Instagram and Twitter for event news and updates.