Written by guest contributor Tracy Howe with What's Going On Dallas
When you're looking for a weekend activity, the Dallas area will never fall short. In the middle of it all is the City of Richardson, the home location for the semi-annual Cottonwood Art Festival. This year is the 50th Anniversary for the show that is celebrating art, music, food, local community, and dogs!
I had the pleasure of attending this Spring event held this past weekend, May 4-5, 2019. I was thrilled to bring my family back yet again. With it being their 50th Anniversary, we got there as soon as we could with anticipation of a full crowd. My intuition did not fail me, it was bustling. As you walk into the venue you are immediately greeted with a live band playing all the classic hits at the Courtyard main stage.
We also happened to walk by right as professional speed artist Amy Burkman began to create. She creates paintings live within minutes right in front of your eyes. It felt like time stood still. Even my children were fixated on her work. She creates magic!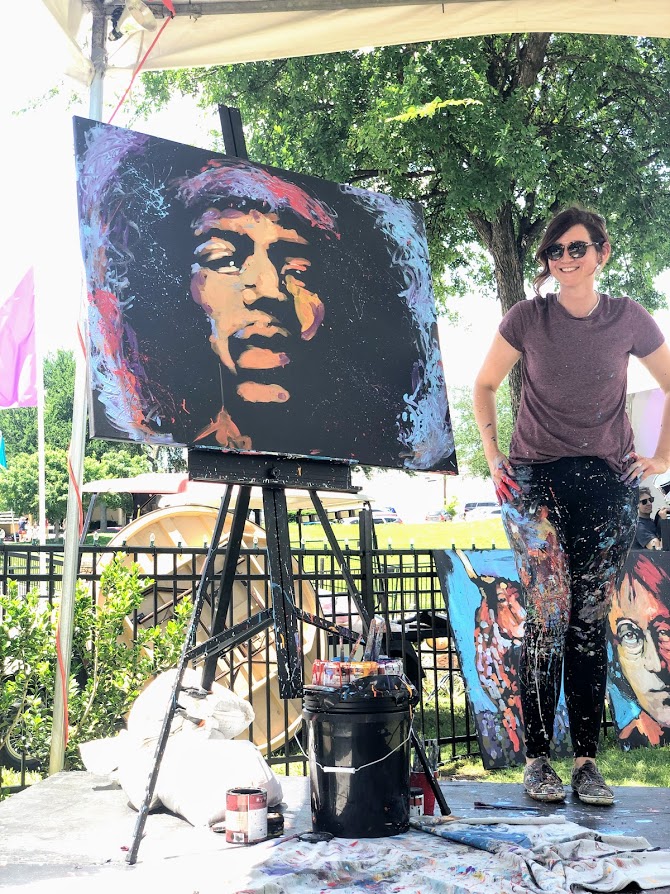 As we always do, we get right in line at the food court concession stand and grab our gourmet slow-cooked brisket nachos and fried mac-n-cheese triangles. Some Sprite for the kids, a crisp wine for the adults and our bellies were happy. As we enjoyed a lite lunch bite, we took it all in around us. Vibrant arrays of flowers dawned every table and surrounded the Cottonwood Boutique. Lush lounge chairs and banquet seating for many to relax and enjoy the music and several shaded areas to weather the bright Texas sun. This was just the beginning as we had only scratched the surface of the festival.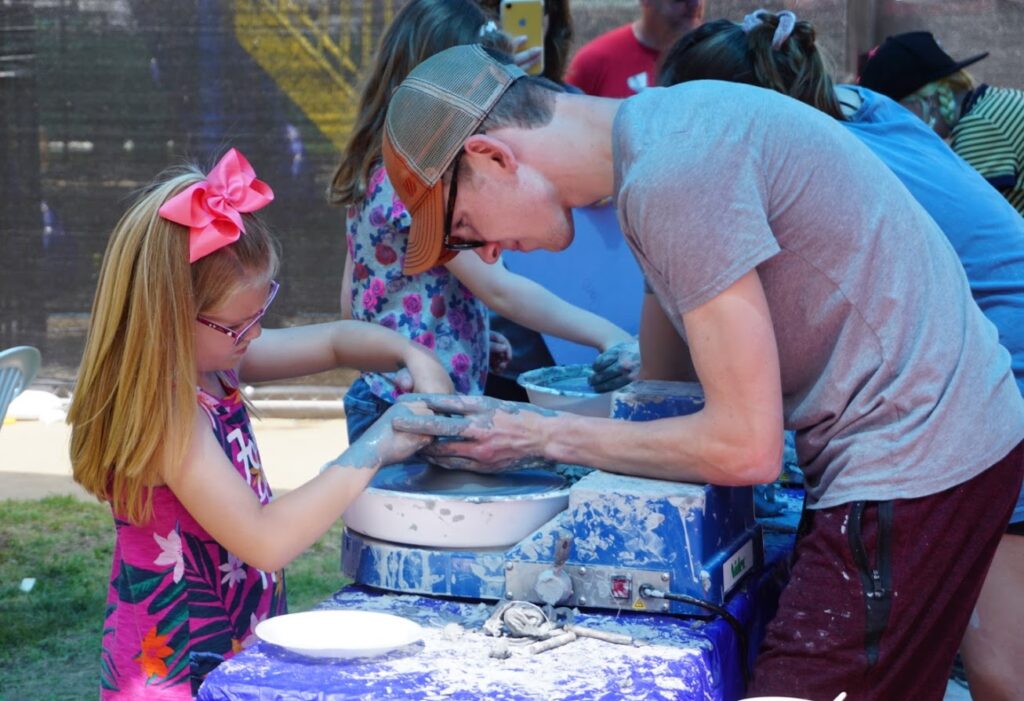 The ArtStop Children's Area was the next area to hit for the kids to have their fun. With a purchase of a few tickets our kids were off to showcase their artistic abilities. This section of the festival is taken over by children with smiling faces and fast feet. You had your choice of several activity crafts within the ArtStop. Explore Culture; where kids make their variations of a Cherry Blossom tree, Paint like Picasso, child artists create their own masterpiece, Play with Mud; children make their own pottery, Learn to Weave; where kids create a butterfly designed by them and many more table crafts to experience.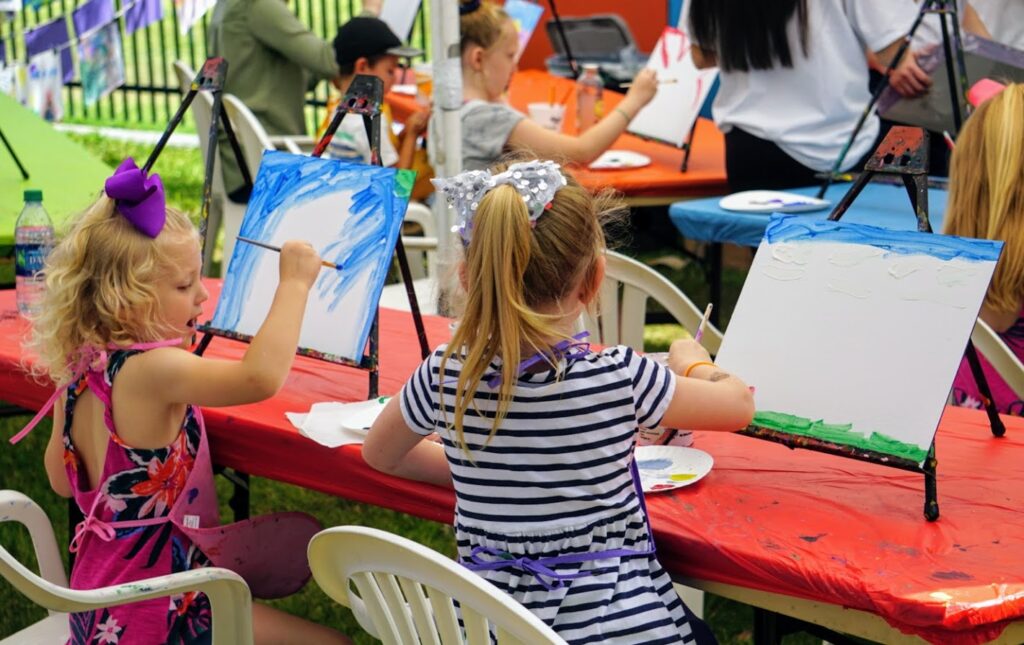 Once the children have had their fair share of play, it was time to visit the food trucks and artists. We all grabbed a beverage and took a stroll through the rows of artist displaying their work.  With over 220 artists from all around, it is a lot to take in. Take your time and really admire the art, each piece is unique and not like the other and you are sure to find a treasure.
The emerging artist section is a crowd favorite because it is showcased by local high school artist in the Dallas surrounding areas. Always astonished by the imagery these young artists create. After walking through the vendor rows, it's best to throw a blanket down and grab a seat on the small hill behind the food trucks and relax. This is the best way to recap what you have seen while enjoying some delicious food. We grabbed some Cuban egg rolls, elotes, old-fashioned kettle corn, corn dog, with a wide variety of choices even the pickiest of eaters will be satisfied. As you eat you can enjoy some fun dog watching, the biggest, to the tinniest, art goers love to bring their furry friends.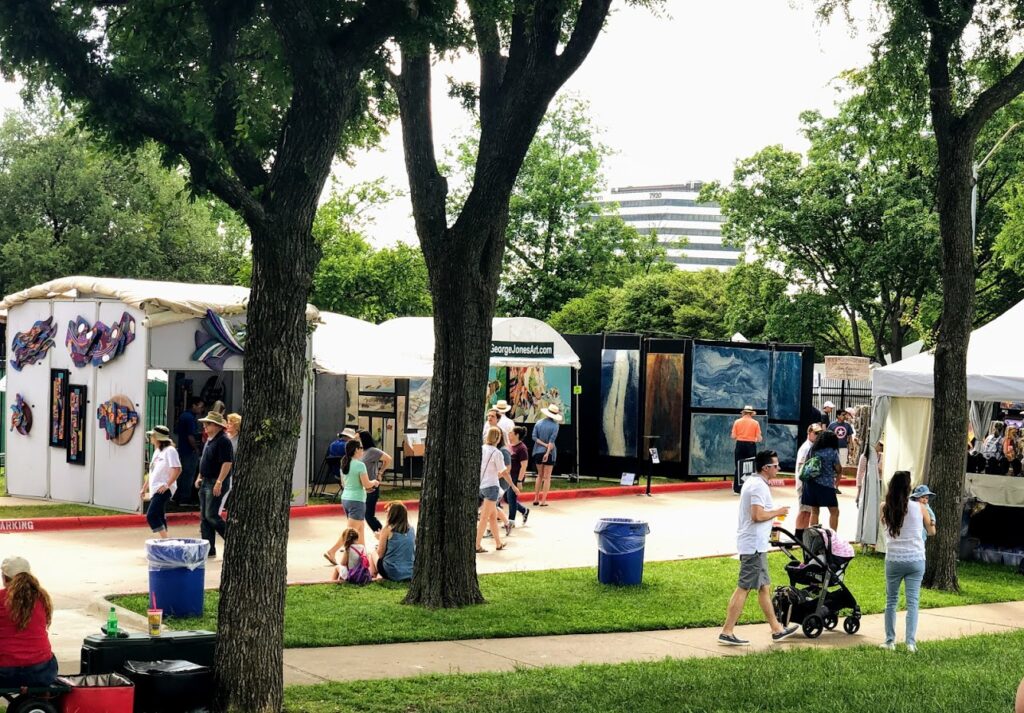 The festival was coming to a close for the day and each year we are amazed at how fast the day goes. The last stop I had to see was the art mural created by Peter Tigler and completed by the attendees of the Cottonwood Art Festival. Seeing this from the start barely painted to then seeing a fully finished piece of artwork was gratifying. Watching artwork come to life with the help of its community is the very definition of Cottonwood Art Festival. It was a great finale to a full day.